Commercial
Class 8 Auction Market Mixed in August
Auction channels sold a moderately higher volume of trucks in August as fleets continued to offload their highest-mileage units and owner-operators continued to shift back to fleets or out of the industry. Depreciation for trucks with mileage solidly in the median for their model year appears to have relaxed this month.
Looking at two- to six-year-old trucks, August's average pricing for our benchmark truck was:
Model year 2021: No trucks sold
Model year 2020: $93,426; $23,414 (20.0%) lower than July
Model year 2019: $75,325; $5,112 (6.4%) lower than July
Model year 2018: $64,406; $3,083 (5.0%) higher than July
Model year 2017: $44,007; $1,229 (2.9%) higher than July
In August, three- to six-year-old trucks averaged 8.0% less money than July, but 3.2% more money than August 2021. Year over year, late-model trucks sold in the first eight months of 2022 averaged 61.0% more money than the same period of 2021. Year to date, three- to six-year-old sleepers have depreciated 6.1% per month on average.
Despite the ongoing market correction, selling prices are still over 45% higher than the last pre-pandemic peak. Demand continues to fall back towards a more rational level, but two main tailwinds will support pricing to an extent. First, the continued tight availability and high price of new trucks means buyers will continue to pay top dollar for trucks with under 400,000 miles, since that segment is the next best thing to a new truck. Second, although contract and spot freight rates have pulled off their early 2022 peak, contract has barely moved while spot is now (as of mid-September) on par with a strong 2018.
At this point, we expect auction pricing to hit a soft floor before the end of the year, landing at roughly 20% above the most recent pre-pandemic peak of early 2019.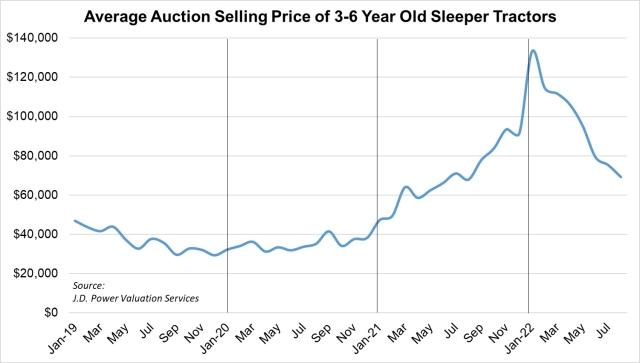 Share this post