Commercial
Class 8 Auction Pricing Drops Again in September
September's auction environment was characterized by a very substantial number of trucks sold combined with depreciation milder than last month but still higher than historically typical.
Looking at three- to seven-year-old trucks, average pricing for our benchmark truck in September was:
Model year 2021: $64,556; $1,181 (1.9%) higher than August
Model year 2020: $51,281; $8,262 (13.9%) lower than August
Model year 2019: $36,710; $3,241 (9.7%) higher than August
Model year 2018: $27,535; $1,897 (6.4%) lower than August
Model year 2017: $20,043; $2,093 (9.5%) lower than August
Due to the increasing number of trucks with missing titles, unverified mileage, and other issues, it is necessary to apply more subjective judgment as to which trucks to eliminate from the averages. As such, individual model years outlined above may show month-over-month swings not necessarily representative of actual market conditions. However, we are confident in the macro generalizations in the paragraph below. Of course, more detailed and focused analysis is available in our consulting products.
The late-model segment continued to depreciate in September, with four- to six-year-old trucks bringing 5.6% less money than in August, and 37.1% less money than September 2022. In the first nine months of 2023, late-model sleepers brought 37.6% less money than the same period of 2022. Monthly depreciation in 2023 is averaging 4.8%. The newest model years available in the marketplace are about even with the strong pre-pandemic period of 2018 in nominal figures, or just over 20% less if adjusted for inflation.
However, pricing is still roughly 20% higher than the lowest month of 2019 (in real figures), which was the weakest point pre-pandemic. The closer pricing gets to that level, the more depreciation should relax. Assuming some degree of pre-holiday demand followed by typical market inactivity in January, we're looking at the second quarter of 2024 before depreciation returns to a historically-typical level.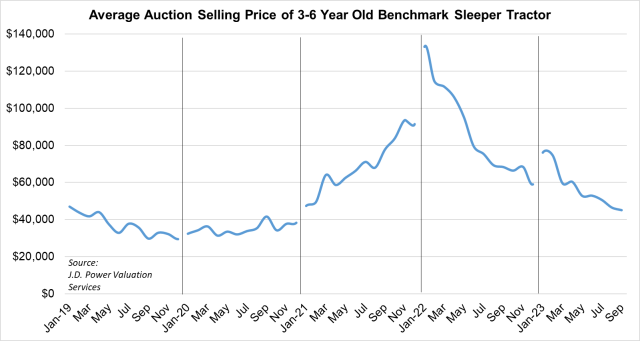 Share this post