Commercial
Class 8 Auction Pricing Now Equal to 2018
Sales volume was mildly lower than March's substantial total but remains elevated as excess capacity is offloaded.
Looking at three- to seven-year-old trucks, average pricing for our benchmark truck in April was:
Model year 2021: $102,000; $15,000 (17.2%) higher than March
Model year 2020: $59,729; $4,588 (7.1%) lower than March
Model year 2019: $46,981; $3,430 (6.8%) lower than March
Model year 2018: $32,371; $3,997 (11.0%) lower than March
Model year 2017: $24,924; $532 (2.1%) lower than March
As we mentioned last month, expect substantial swings in the model-year 2021 average due to very low volume. This month's result is probably more representative of actual market conditions than last month's.
With that in mind, late-model trucks averaged 8.0% less money in April than March, and 48.5% less money than April 2022. In the first four months of 2023, late-model sleepers brought 47.0% less money than the same period of 2022. Monthly depreciation in 2023 is currently averaging 5.8%. The newest model years available in the marketplace are bringing about 20% more money than the strong pre-pandemic period of 2018, assuming average mileage per year. If we adjust values over time to 2023 dollars, that difference drops to parity.
Four-year-old trucks continue to cycle through auctions in substantial numbers. Most of these trucks are off-rental units with extremely high mileage. Our averages adjust for mileage, but trucks of this age with lower mileage are bringing stronger money.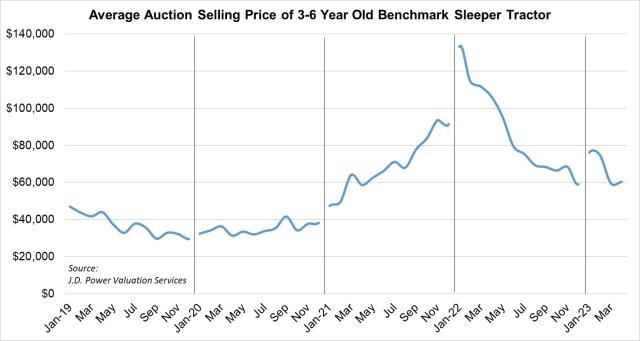 Share this post