Commercial
Retail Channel Holding up in a Depreciating Market
July saw a smaller month-over-month drop than June, suggesting buyers are still out there for the most desirable trucks in the marketplace.
The average sleeper tractor retailed in July was 66 months old, had 435,581 miles and brought $108,041. Compared with June, this average sleeper was three months newer, had 28,774 (6.2%) fewer miles, and brought $600 (0.6%) less money. Compared with July 2021, this average sleeper was seven months newer, had 17,669 (3.9%) fewer miles, and brought $38,436 (55.2%) more money.
Looking at two- to six-year-old trucks, July's average pricing was as follows:
Model year 2021: $154,415; $27,888 (15.3%) lower than June
Model year 2020: $143,799; $3,962 (2.7%) lower than June
Model year 2019: $112,976; $4,867 (4.1%) lower than June
Model year 2018: $97,244; $10,655 (9.8%) lower than June
Model year 2017: $72,815; $8,487 (10.4%) lower than June
This month's average for model-year 2021 is misleading due to a mix of trucks with substantially higher mileage in a relatively small sample. On an individual basis, trucks with average mileage for that year did not change appreciably in value, indicating trucks with under 400,000 miles are still in very high demand.
Otherwise, three- to five-year-old trucks brought an average of 5.2% less money in July than June. Trucks in this age group brought 73.5% more money in the first seven months of 2022 than the same period of 2021. Depreciation is averaging 1.0% per month in 2022, but looking at only the most recent 3 months, that number increases to 4.3%. Despite downward movement, retail pricing is still roughly 50% higher than the last pre-pandemic peak in late-2018.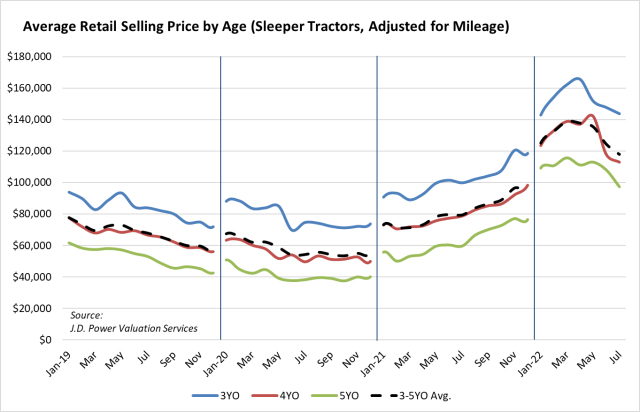 Share this post