Used Car & Truck
Used Market Update: April 23, 2021
After increasing 2% the week ending April 11, wholesale auction prices increased 2.1% during the week ending April 18. The week's performance extends the streak of week-over-week price increases in the wholesale marketplace to 16 weeks. Wholesale prices are now 17% higher than their previous peak back in August 2020, and a massive 29% above their level at the end of December 2020.
Weekly Wholesale Auction Price Index (Mar 1 = 100)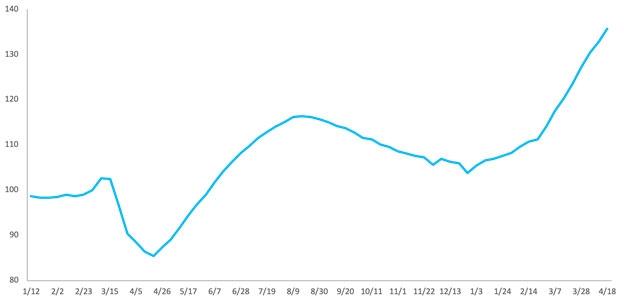 Wholesale Auction Sales Dip Slightly to 88,000 Units
Wholesale auction sales of vehicles up to 8 years old reached approximately 88,000 units during the week ending April 18. Last week's result was slightly lower than the previous week's figure. While week-over-week sales are relatively consistent, sales continue to run approximately 20% to 30% below 2020 levels. Last week's result emphasizes how lean the wholesale marketplace is running, which is helping to keep used prices strong.
Weekly Wholesale Auction Sales (000s)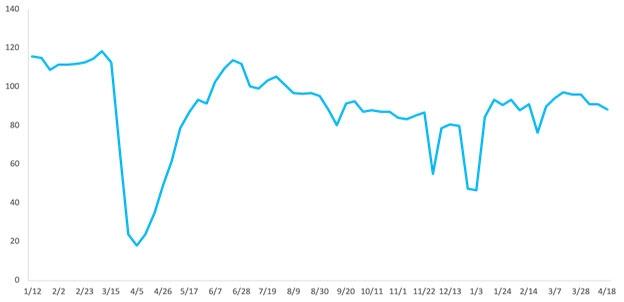 In 2021, used prices are expected to remain near historic levels as pandemic-related macro-economic headwinds remain in place. By year's end, prices in Q4 2021 are expected to be up as much as 6% vs. Q4 2020 and will remain higher than pre-virus levels. It is important to note, however, that while the outlook remains optimistic, there remains a great deal of uncertainty surrounding the effect of vaccine roll out, federal stimulus, employment conditions, new vehicle production constraints, as well as the ongoing semiconductor (microchip) and other supply chain issues on the new side of the market. Given these unknowns, a heightened degree of used market volatility should be expected.
Share this post