Used Car & Truck
Used Market Update: July 8, 2020
Wholesale Auction Sales Remain Above 100,000

Wholesale auction sales growth of vehicles up to 8 years old reached an estimated 100,000 units the week ending July 5. While sales were down 9% vs. the week prior, the decline can be attributed to the abbreviated week leading up to the July 4 holiday. Sales are expected to rebound this week.
Weekly Wholesale Auction Sales (thousands)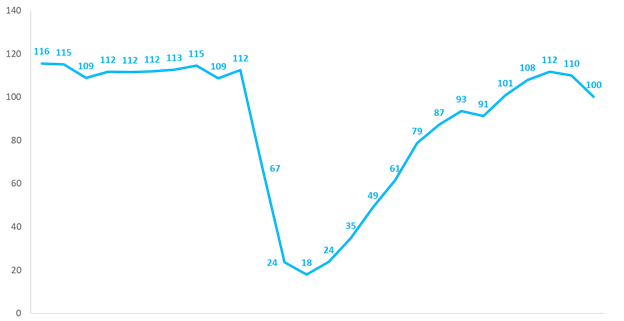 Segment-level auction sales were down across the board for the week ending July 5. Sales declines reached double digits for numerous segments, including midsize car, midsize van, small premium car and midsize premium car. Compact car, large pickup, midsize SUV and small premium SUV sales were down by a relatively small average of 4% vs. the week prior.

Wholesale Auction Price Growth Slows

Wholesale auction prices improved for the 11th consecutive week, rising 0.9 percentage points. This growth, however, was well below the 2.3% improvement averaged over the previous four weeks. This was expected since, historically, prices soften the week leading up to July 4 before strengthening again the following week. Prices have improved 23.6 percentage points during the past 11 weeks and are now 8% higher than at the beginning of March.
Weekly Wholesale Auction Price Index (Mar 1 = 100)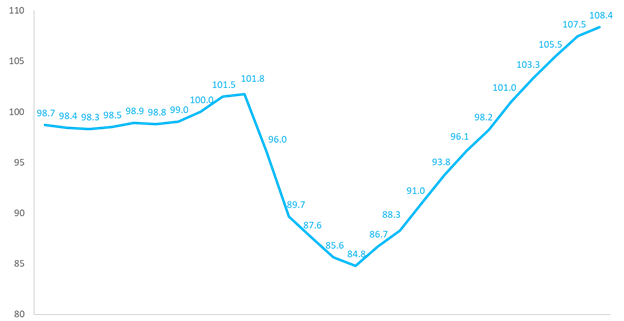 This past week, wholesale prices for mainstream segments increased by an average of 1% vs. the prior week. Midsize and large pickup prices jumped nearly 2.5%, on average, while small car prices fell 0.4%. Premium vehicle prices were also up an average of 1%, with growth being led on this side of the market by small and large premium cars which exhibited a combined growth of 1.5%.
Wholesale prices remain exceptionally strong and the consistent week-to-week growth indicates that prices will remain strong in the near-term. The robust pace of retail sales since the end of May also supports a positive outlook, as dealer demand for replacement inventory remains high. Current expectations are that wholesale prices will remain elevated through July. Looking beyond July, prices are expected to decline in August and September as pent-up demand is met and federal tax refunds and pandemic-related stimulus have largely been exhausted. In addition, pandemic-related macro-economic headwinds, including resurgent COVID-19 outbreaks, are expected to come more to the fore as the third quarter approaches. 

While prices will decline, they are not expected to collapse. Instead, we expect prices to return to pre-virus levels by the end of the year. The outlook can be attributed to the persistent, underlying positive fundamentals that drove used-vehicle demand higher in the two years leading up to the pandemic; in particular, their relative affordability vs. new vehicles and a reduction in used-vehicle supply. 

There were heightened concerns that an influx of off-rental and off-lease units would depress used prices, but these concerns have largely dissipated. Both wholesale sales data and insight from industry stakeholders indicate that large quantities of rental volume have already cleared the market. As for leased units, while there remains a meaningful amount of deferred off-lease volume still on the sidelines, a lack of vehicle trade-in volume combined with robust consumer demand for used vehicles will help mitigate downward pressure.

It is important to note that while our outlook is relatively optimistic, there remains a great deal of uncertainty surrounding the effect of new COVID-19 outbreaks, the potential for another round of federal stimulus and overall employment conditions. Given these unknowns, a heightened degree of market volatility is certainly not out of the question. 

Used Vehicle Retail Sales Remain Very Strong

Sales of used vehicles at franchised dealers beat pre-virus forecast by 18% for the week ending July 5. The strong demand for used vehicles is consistent with prior periods of challenging economic conditions. Additionally, reduced incentives on new vehicles drove up monthly payments, which further bolstered demand for the affordability of used vehicles. The strong volume gains at retail are leading to modestly higher used retail prices, which grew 0.5 percentage points from the week before. Used vehicle retail prices are now 2% higher than pre-virus levels.
 
Share this post