Used Car & Truck
Used Market Update: June 12, 2020
Wholesale Auction Sales Exceed Pre-Virus Expectations

Wholesale auction sales of vehicles up to 8 years old surpassed pre-virus forecast the week ending June 7. Sales reached an estimated 98,000 units, up from the 95,000-unit pre-virus forecast for the week. The week marked the first time since early March with wholesale sales at or above normal levels.
Weekly Wholesale Auction Sales (000s)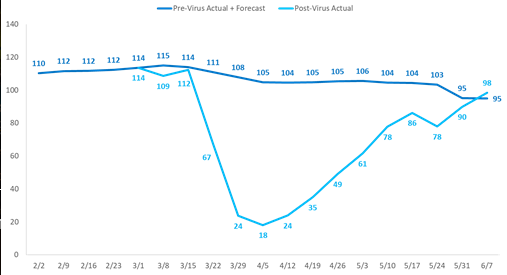 Segment-level auction sales were up virtually across the board on a weekly basis last week. Mainstream growth was led by Small SUV's 18% increase, followed by an 11% increase for Compact Car. Midsize and Large Pickup sales fell by a combined average of 2.5% last week. Demand for the two pickup segments has been very strong, both in the lead up to and over the course of the pandemic. Last week's reduction likely stems from robust upstream sales activity for used pickups, which prevents more supply from reaching physical auction, along with dealers electing to keep a larger number of pickup trade-ins to help meet retail demand. Note that a relatively low supply of new pickup inventory, especially large pickups, will increase dealer demand for used pickups.

While mainstream segment sales growth was strong last week, premium vehicle auction sales skyrocketed. As a collective, premium auction sales jumped 26% week-over-week, while sales in the Compact Premium Car and Compact Premium SUV segments rose by an average of 31%. Note that sales of the latter segment were 50% higher than pre-virus levels last week (sales of Compact Premium Car were equal to pre-virus levels).

 
Wholesale Auction Prices Move Beyond the Pre-Virus Forecast

Wholesale auction prices of vehicles up to 8 years old improved for the seventh consecutive week, rising 2.2 percentage points on a weekly basis the week ending June 7. Prices closed the week 4% above our pre-virus expectations for the week and are now more than fully recovered from the 16% trough recorded the week ending April 19.
Weekly Wholesale Auction Price Index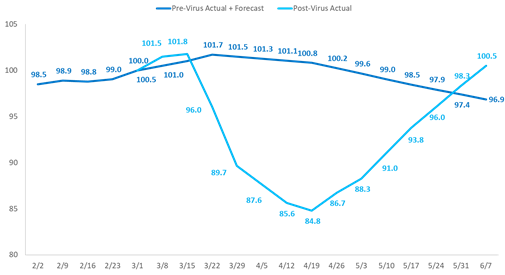 While wholesale prices for most segments increased by 2% versus the week prior, prices of Large Pickups and Small Cars jumped 3%. Prices of Small Premium Cars rose by 4%, best in the industry (on solid volume as well).

Looking ahead, we expect prices to remain relatively strong before falling modestly later in June and in July as dealer inventory needs are met and larger quantities of off-lease and off-rental vehicles enter the market. However, the strength observed in used wholesale prices to-date could indicate more upside potential than higher supply and macro-economic pressures (such as high unemployment) would dictate under less volatile conditions.

Used Vehicle Retail Sales Surpass Pre-Virus Forecast on Flat Pricing

Sales of used vehicles at franchised dealers for the week ending June 7 beat pre-virus forecast by 1%. The strong demand for used vehicles is consistent with prior periods of challenging economic conditions. Further, reduced incentives on new vehicles drove up monthly payments, which further bolstered demand for the affordability of used vehicles. Despite the strong volume gains at retail, used retail prices were essentially unchanged for the week ending June 7 vs. the prior week and are down just 2% from pre-virus levels.
 
Share this post