Used Car & Truck
Used Market Update: June 25, 2020
Wholesale Auction Sales Surpass 110,000 Units. This J.D. Power Valuation Services Used Market Update for June 25, 2020.

Wholesale auction sales of vehicles up to 8 years old continued to climb last week. Sales reached an estimated 110,000 units the week ending June 21, up 2% vs. the week prior and 9% more than the 101,000-unit pre-virus forecast. Sales during the past three weeks have exceeded 100,000 units each week, the first time this has occurred since early March.
Weekly Wholesale Auction Sales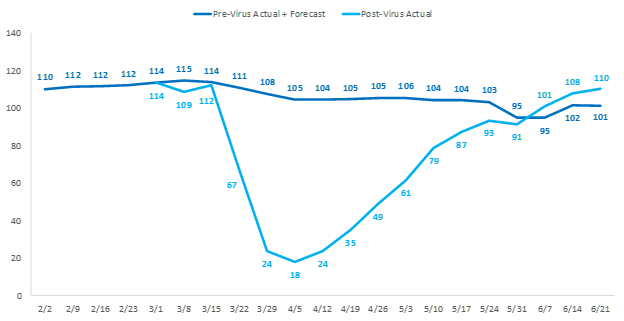 Segment-level auction sales growth was mixed last week. Mainstream increases were led by passenger car segments with compact, midsize, and large cars experiencing growth ranging from 5% to 8%. However, not all passenger car segments showed an increase for the week, as small cars posted a 5% decline. Midsize pickup sales volume fell by 8%, while growth for remaining segments was in the single digits. On the premium side of the market, segments underperformed their mainstream counterparts. Midsize and large premium car and SUV sales growth increased by an average of 9%. Remaining segments experienced mild declines for the week.
Wholesale Auction Prices Continue to Climb
Wholesale auction prices of vehicles up to 8 years old improved for the ninth consecutive week, rising 1.6 percentage points for the week. Prices improved 20 percentage points during the past nine weeks and are now 5% higher than at the beginning of March.
Weekly Wholesale Auction Price Index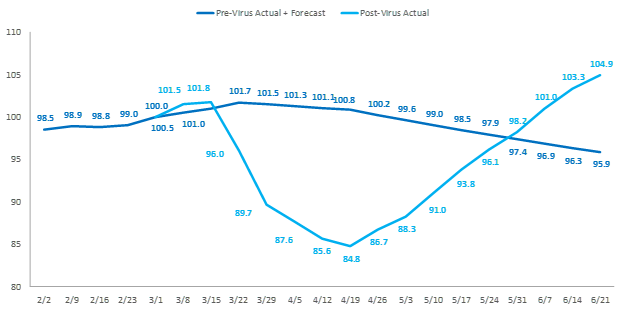 Wholesale prices for mainstream segments increased by an average of 1.6% vs. the prior week. Prices of midsize pickups continue to exhibit strength, increasing by 2.8% over the previous week. Large pickup (+2.3%), large SUV (+1.9%), and midsize van (+1.9%) segment growth also outpaced the mainstream segment average. On the premium side, increases were led by small premium cars with a 4.2% increase. Remaining segment prices rose 1.2% to 2.5%. Despite recent strength, prices are expected to remain relatively strong through the remainder of June before falling modestly in July as dealer inventory needs are met and larger quantities of off-lease and off-rental vehicles enter the market. However, the strength of current used wholesale prices could indicate more upside potential than higher supply and macro-economic pressures (such as high unemployment) would dictate under less volatile conditions.
Used Vehicle Retail Sales Exceed Pre-Virus Forecast on Flat Pricing
Sales of used vehicles at franchised dealers beat pre-virus forecast by 14% for the week ending June 21. The strong demand for used vehicles is consistent with prior periods of challenging economic conditions. Additionally, reduced incentives on new vehicles drove up monthly payments, which further bolstered demand for the affordability of used vehicles. Despite the strong volume gains at retail, used retail prices were flat for the week ending June 21 vs. the prior week and are down just 0.2% from pre-virus levels.
Share this post