Used Car & Truck
Used Market Update: October 9, 2020
Wholesale auction sales of vehicles up to 8 years old for the week ending Oct. 4 reached 78,000 units, which was a 9% increase vs. the prior week's 71,000-unit figure. Note that previous figures have been updated and reconciled resulting in lower sales than originally published. Ultimately, sales for the week ending Oct. 4 were approximately 20% lower than what's typically recorded for the period. 
Weekly Wholesale Auction Sales (thousands)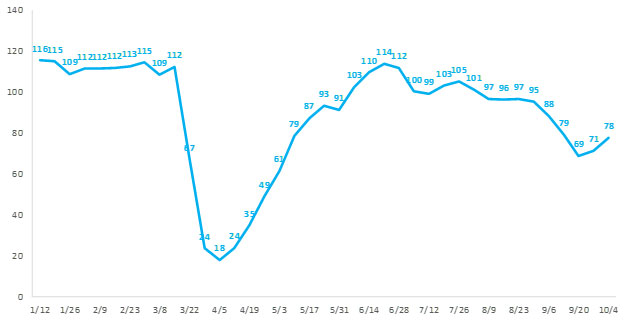 Segment-level auction sales on the mainstream side of the market grew an average of 7% for the week ending Oct. 4. Increases were recorded across all mainstream segments. Small car sales increased the most on the mainstream side, up 17% for the week. Remaining mainstream segment sales increased from 2% (midsize van) to 12% (compact SUV). On the premium side of the market, sales grew an average of 14%. Large premium SUV and compact premium car sales increased more than 20% each, while small premium SUV and midsize premium car sales grew more than 15%. Remaining premium segment sales increases ranged from 7% (large premium car) to 11% (midsize premium SUV).
Wholesale Auction Prices Down Again
After several weeks of small price declines, wholesale auction prices moved lower again the week ending Oct. 4 marking the seventh consecutive week of downward price movement. Prices last week were reduced an average of 1.1%. As wholesale prices continue to soften, they remain 30% higher than their trough in April, and 10% above their level at the beginning of March.
Weekly Wholesale Auction Price Index (Mar 1 = 100)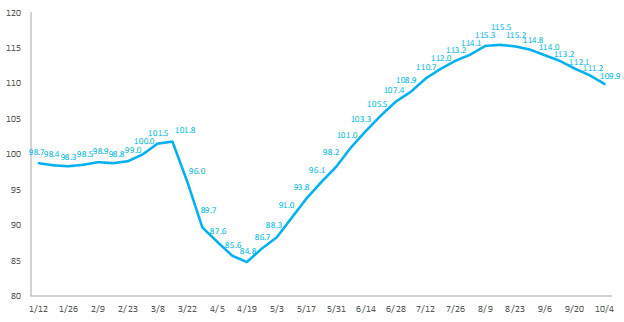 Wholesale prices for mainstream segments declined an average of 1.2% the week ending Oct. 4 when compared with the prior week. Prices on the mainstream side were down again across the board. In general, losses across segments were mixed and fell between a range of 0.7% (large pickup) to 2% (large car). Premium prices once again performed slightly better than their mainstream counterparts. On average, premium segment prices declined by 0.8% for the week ending Oct. 4. While most premium segments experienced price declines from 0.4% (large premium SUV) to -1.5% (small premium car), midsize premium car prices grew 0.6%.
Despite a slowing used market, wholesale prices remain strong. Prices are expected to continue to move lower through October and into November as pent-up demand has been satisfied and pandemic-related macro-economic headwinds increase. By year's end, prices are expected to be greater than pre-virus levels. It is important to note, however, that while the outlook is relatively optimistic, there remains a great deal of uncertainty surrounding the effect of new virus outbreaks, the potential for another round of federal stimulus, overall employment conditions. Given these unknowns, a heightened degree of market volatility should be expected.
Share this post