The Agricultural Guide of the industry
At IRON Solutions, we do more so you can do more, profitably. We offer a suite of services that make running your business easy, efficient, and profitable, including our trusted equipment resources, our series of IRON Guides.
We are the leading source of equipment market intelligence for used agricultural, and outdoor power equipment. And now, our Official Guides are available through NADA Used Car Guide, now J.D. Power Valuation Services. This gold standard in equipment data is the only source of equipment information driven by the daily collection of sales transactions across the industry. With more than 1 million dealer transactions, this easy-to-use reference guide helps you know the real values of equipment. Used by financial, insurance and government agencies that need to understand the value of various equipment, our Official Guides are available in our traditional book format, or online as an integrated software solution.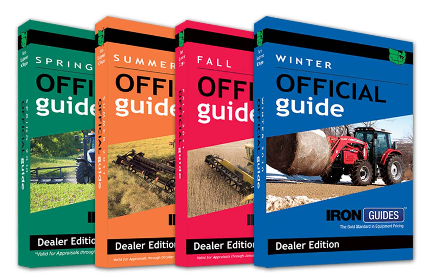 Get your access to the most trusted resources of equipment values. Call to order at 800-544-6232 .
Arm yourself with the right insights to be more profitable.

IRON Guide for Agriculture Equipment: Official Dealer Edition
We've assembled 20+ years of agriculture equipment values for tractors, combines, balers, forage harvesters, mower conditioners, skid loaders, sprayers, windrowers, and cotton harvesters. This trusted guide is your access to:
• Wholesale, trade-rough, trade-premium, average resale, and advertised values based upon actual industry reported sales from dealers and auctioneers
• Serial numbers and locations
• Optional equipment values and hour adjustment factors
• Report Analyzer, and online tool that gives you access to all the actual reported equipment values by state for equipment listed in paper guides, plus numerous other types of equipment
Published in five U.S. regions, this guide book is updated quarterly in March, June, September and December. If you choose the online version, you'll have access to real-time updates.