Complies with the Higher-Priced Mortgage Loans (HPML) Appraisal Rule
Subscribe now and receive unlimited access to the industry standard for used manufactured home values from any web-enabled device. With over 70 years of values for manufactured, pre-HUD mobile, and modular homes, MH CONNECT for Used Homes is widely used by lenders, retailers, community owners, insurers, assessors, appraisers, and private-party buyers and sellers. Values are updated six times per year.
Since 1972, our products have been the most comprehensive and trusted source of manufactured home values, pricing, and information.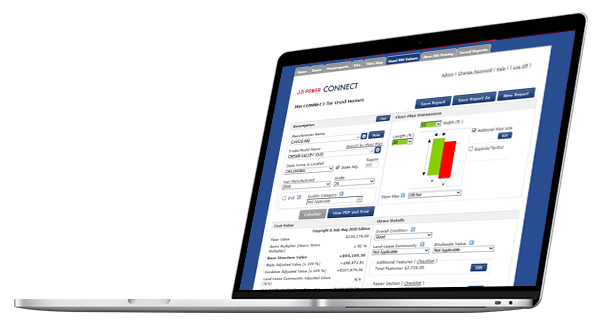 Benefits
Confidence from Credibility
Boost consumer confidence with J.D. Power's independent third-party pricing and logo
Create custom value reports with your own company logo
Increase Your Margins
Account for renovations and repairs with the comprehensive Additional Features and Repairs Section

Adjustments are available for condition, land-lease community, wholesale, and more
Easy-to-Use, and Saves Time
Quickly find over 1,900 manufacturers and 10,500 trade names by using the Type Ahead feature
The Floor Plan to Trade Name Cross Reference Tool can help identify the manufacturer and trade name of a home
Save and print your value reports as PDFs, or export to Excel for portfolio/inventory management
Quickly update saved values to current values (values are updated six times per year) with the click of a button
Federally Recognized
Approved by HUD-FHA Title 1, Fannie Mae, Freddie Mac, and DVA Recognized
Cost Effective
Priced at just $365 per year
Unlimited value lookups allows you to research as many values as you need
Related Solutions Powered By CONNECT