Commercial
Class 8 Auction Market Outperforms for another Month
Looking at three- to seven-year-old trucks, average pricing for our benchmark truck in July was:
Model year 2021: $63,974; $12,420 (16.3%) lower than June
Model year 2020: $66,925; $5,900 (9.7%) higher than June
Model year 2019: $42,068; $1,670 (3.8%) lower than June
Model year 2018: $29,077; $1,165 (3.9%) lower than June
Model year 2017: $21,542; $119 (0.5%) lower than June
Three-year old trucks sold at auction had extremely high mileage for their age as well as somewhat undesirable specs, so once again we do not consider the average in the table above representative of actual market movement. Trucks with more typical mileage were flat compared to June.
The late-model segment saw another uptick in pricing in July, with four- to six-year-old trucks bringing 2.3% more money than in June, but 25.1% less money than July 2022. In the first seven months of 2023, late-model sleepers brought 43.4% less money than the same period of 2022. July's uptick caused the year-to-date monthly depreciation average to relax even more to 5.1%. The newest model years available in the marketplace are bringing just north of 20% more money than the strong pre-pandemic period of 2018 in nominal figures, or slightly higher if adjusted for inflation. We still predict pricing should resume typical depreciation trends and dip below that strong 2018 comparison on an inflation-adjusted basis.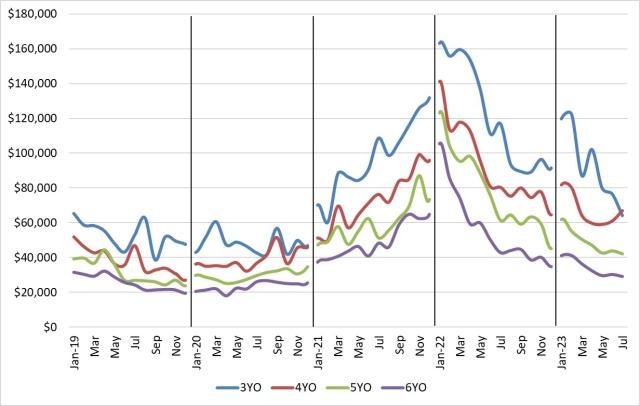 Share this post