Used Car & Truck
Used Market Update: June 24, 2021
Wholesale Auction Prices Peak, Begin Decline
After increasing for 24 consecutive weeks, wholesale auction prices declined a slight 0.2% during the week ending June 20. Wholesale prices began cooling during the week ending May 23 as price growth slowed to a rate of 0.4% or less week-over-week up until last week. This cooling period came right after an exceptional run of 12 consecutive weeks in which week-over-week increases averaged a massive 2.2%. Despite last week's decline, wholesale prices are still nearly 30% greater year-to-date than during the same period in 2020, and a massive 39% above their level at the end of December 2020.
Weekly Wholesale Auction Price Index (Mar 1 = 100)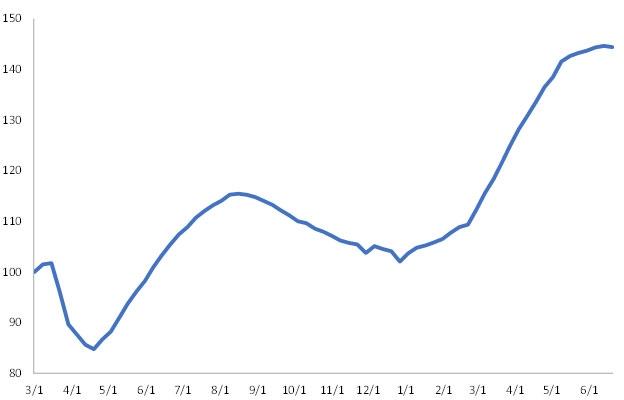 Wholesale Auction Sales Remain Under Pressure
Wholesale auction sales of vehicles up to 8 years old reached approximately 79,000 units during the week ending June 20. Last week's result is flat compared with the previous week, but nearly 31% lower than what was recorded during the same period in 2020. There are many factors at play leading to lower numbers of vehicles making their way to auctions right now. First, there are fewer off-lease units as more consumers are buying them out due to favorable equity positions. Second, there is less daily rental coming back, rental companies sold off large portions of their fleets last year and didn't purchase replacement units to right size for slowing rental demand. And finally, dealers are hanging onto trade-in units that normally don't fit their specific needs and retailing as many vehicles as they can.
Weekly Wholesale Auction Sales (000s)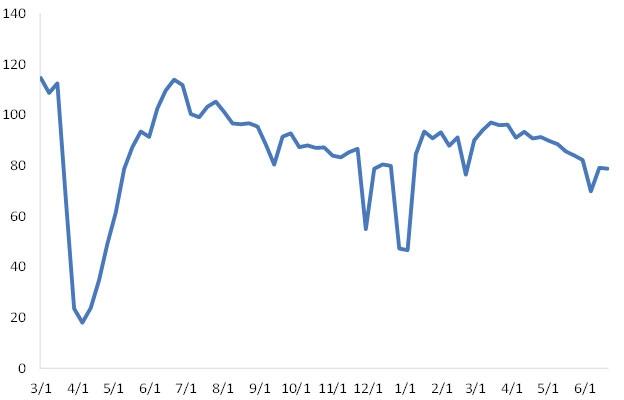 At the end of 2021, used prices are expected to remain near historic levels as prices are expected to be up as much as 29% vs. 2020. Wholesale prices have reached their peak, and we expect prices to drift lower through the remaining months of 2021—but remain near record levels. The used-vehicle market's continued strength is driven primarily by the expectation that used supply will remain a challenge and that new-vehicle market challenges will remain in place for the foreseeable future. However, there remains a great deal of uncertainty surrounding new-vehicle production, so there is certainly the potential for heightened used-vehicle price volatility.
Share this post